Since bullet proof tires allow you to continue driving with punctures, they're important for the efficient operation of your vehicle.
Also known as run-flats, they could rank high on your tire-shopping list for several reasons. The following guide covers everything you need to know about them.
Why would you install bullet proof tires?
Continue driving on a puncture.
Enable continued steering control after the puncture.
Ensure better traction and road contact.
Reduce rolling resistance.
Avoid tire spares.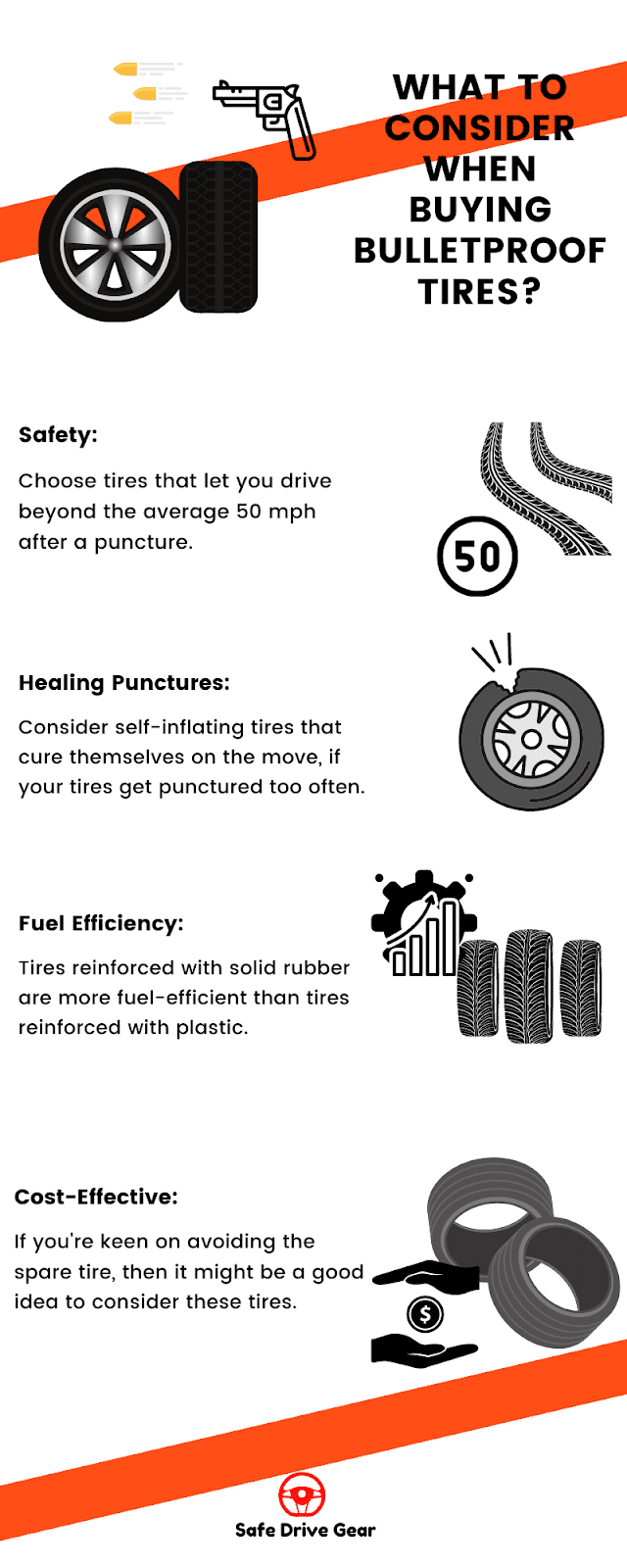 Are Bullet Proof Tires Real?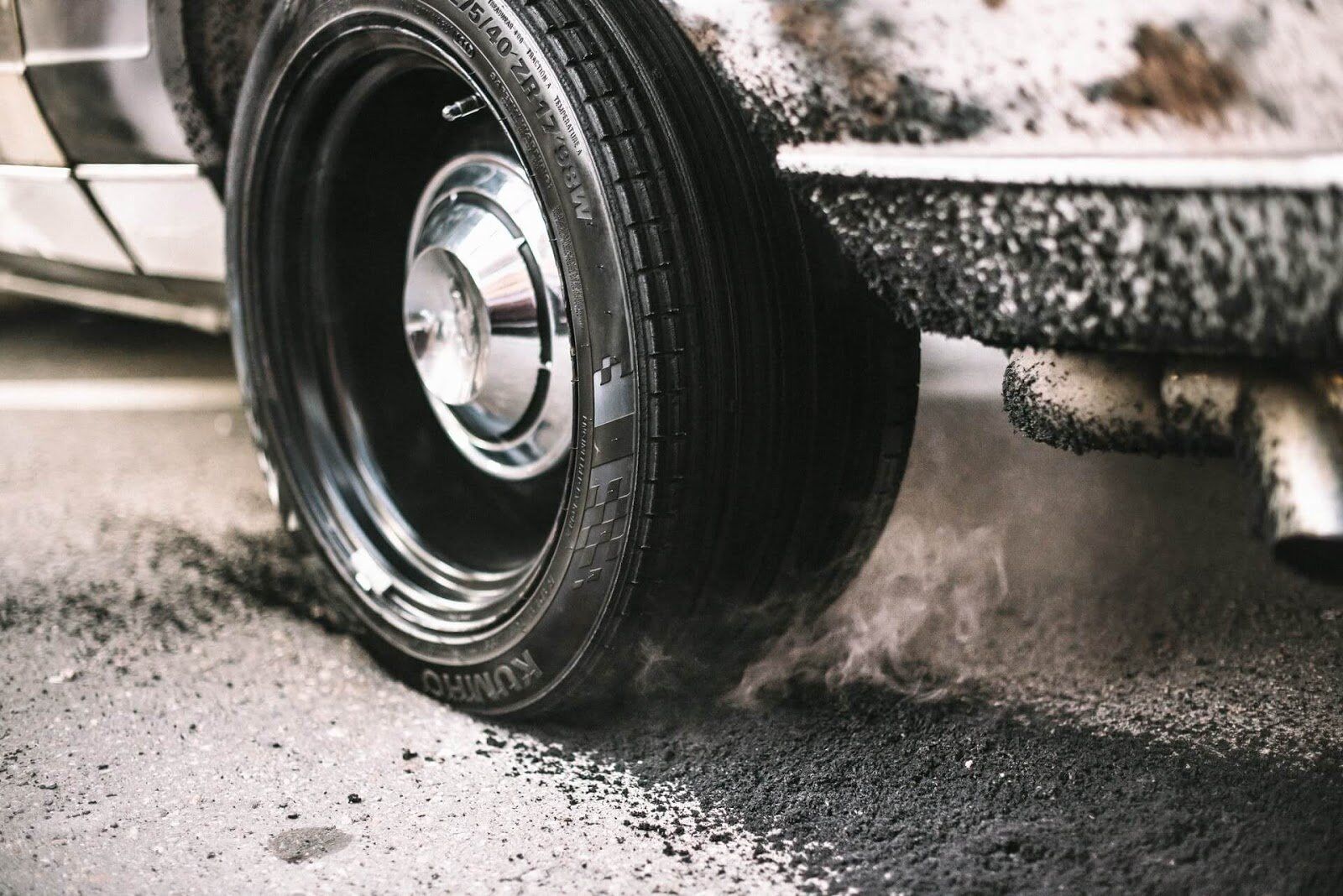 Yes, if you understand that these tires resist the penetrative power of a bullet by absorbing or deflecting its energy, they're for real.
Manufacturers use different technologies to design these tires based on defensive driving and safety requirements. For example, an armored car for the military uses solid tires that aren't inflated with air.
A car used to carry dignitaries has Kevlar-reinforced run-flat tires. Also, a bullet-shattered tire wont stop its driver from reaching a safe zone at reasonable speed.
How Do They Work?
Some of the current technologies used to manufacture these bullet proof tires include:
Self-Sealing Tires
The latest self-sealing technology combines different components of tire safety gear.
A vehicle's tire pressure monitoring system and support ring around the wheel keep it mobile when the tire pressure reduces without warning. The mechanism also uses a self-sealing gel to plug the hole.
Self-sealing tires offer similar or better driving comfort and road-handling capabilities when compared to regular tires. Plus, these tires neutralize any force that tries to resist the motion of the car.
Self-Inflating Tires
They sustain the specified tire pressure at all times and also repair slow leaks.
According to the National Highway Traffic Safety Administration (NHTSA), all vehicles including passenger cars and trucks weighing less than 10,000 pounds must have their tire pressure monitoring system (TPMS) installed.
The TPMS warns the driver when tire pressure falls below 25 percent of the required pressure.
Run-Flat Tires
In pneumatic tires, it's the air enclosed within the tire that carries the weight of the car.
In run-flat tires, however, materials made of rubber and heat-resistant cord strengthen the sidewall. They have enhanced load-bearing capacities that help keep the car mobile when a tire is punctured.
Advanced support ring systems feature solid plastic or metal bands that deflect bullets. The vehicle's sidewall is strengthened by this smooth-edged, crescent-shaped support material, which prevents the tire from collapsing in the absence of air pressure.
You can continue driving to safety at the maximum-allowed speed of 50 miles per hour. Do this when the nearest service station is less than 50 miles away.
Airless Tires
Commercial airless tires are currently made of plastic or solid rubber. However, engineers are developing a unique spoke-structured tire that's predicted to be the future of tubeless tires.
Special-purpose military armored vehicles, lawnmowers, trailers, and golf carts are some commercial applications.
Are Bullet Proof Tires Just as Good as Normal Tires?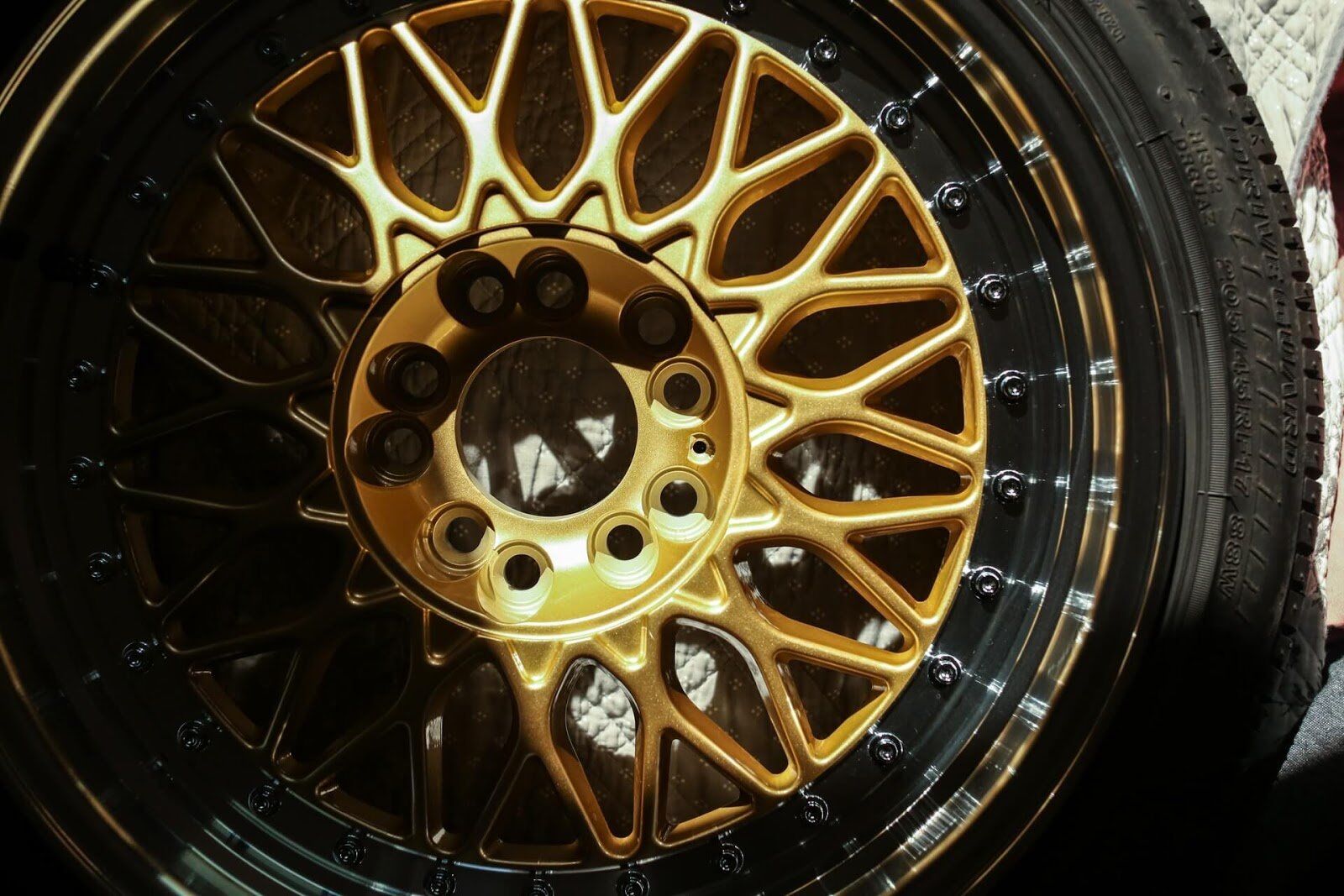 The present generation of bullet proof tires work fine at high speeds and over uneven roads. Older tires have extra-hardened materials that make the vehicle jump over bumps at high speeds.
A lot has gone into designing the wheel rim and suspension of a car with these tires. The familiar flapping sound of a punctured tire is a thing of the past.
Now, companies like Goodyear and Pirelli design and install self-supporting tires for high-end vehicles. These self-inflating or self-sealing tires don't allow your vehicle to slip around sharp bends even with a front tire puncture.
If It Doesn't Make a Sound, How Do You Know It's a Puncture?
There's usually a warning light on the dashboard that glows or flashes when you drive your car on a puncture.
This is usually the case with newer models preinstalled with run-flats.
You'll find a TPMS warning light on the instrument panel that monitors the air pressure in each of the tires. This yellow warning light displays a cut-away view of the tire. It comes on when the tire air pressure drops below the specified level.
Can You Replace All Normal Tires With Bullet Proof Tires?
No, there is an element of risk involved if you choose to replace your regular tire with a self-supporting tire without consulting a qualified technician.
You need a system to warn you when there's a sudden loss of tire air pressure, or else you won't be able to keep the car steady for too long.
Order the right TPMS, if you install these safety tires on an old car. Just fill in your vehicle details to locate the right TPMS for your vehicle model.
How Long Do They Last?
Reputed tire companies offer the same one-year warranty for both run-flats and regular passenger tires.
Engineered beads are used to keep the wheel connected to the tire when air pressure is lost. They help the driver reach the repair workshop quickly.
If you drive with a punctured self-sealing tire for more than the specified distance, you run the risk of damaging your vehicle.
The manufacturer specifies how fast and for how long you can drive on your run-flats. Refer to these specifications to increase the chances of repairing your tire.
What Happens When You Drive With Punctured Run-Flats?
The reinforced sidewall is what supports the car when you're met with a puncture. Made of steel, rubber, and fabric, this material can generate a lot of heat.
The cooling fans inside the sidewall are destroyed when you drive beyond the 50-mile range.
Material loss is the most after this stage. You wouldn't want to check out what happens when the entire load of your car falls on the wheel rim and suspension.
Are Bullet Proof Tires Legal?
Yes, several manufacturers design and offer new passenger vehicles with pre-installed self-supporting tires.
An inside look at the "Beast," the Presidential bullet-proof limousine, reveals that it does have tires reinforced with Kevlar to resist bullets and to prevent them from shredding.
In fact, the car runs on its reinforced steel rims when these tires are destroyed.
Can You Buy Bullet Proof Tires?
Yes, original equipment manufacturers (OEMs) offer self-sealing tires. You can check out the size you need and get them online.
How Do You Remove Them?
Manufacturers advise against removing a punctured bullet proof tire.
Instead, the self-inflating tire saves you the trouble of keeping a spare tire. You don't have to change the tires yourself. Just drive to a mechanic's shop for a replacement or repair.
Can You Repair Self-Supporting Tires?
Run-flats aren't as easy to fix as standard tires. In fact, manufacturers like Pirelli don't recommend repairs.
Self-inflating tires when repaired after extensive damage compromise the internal structure of the car.
Manufacturers prescribe different repair and warranty guidelines for these tires. Check out the owner's manual on how to proceed with tire repairs.
What if a Nail Punctures the Tire?
Your driving capability isn't hampered when a nail punctures the tire. The car uses the self-healing gel to close in on the puncture and seal it without your intervention.
Do We Get Replacement Tires Easily?
Most dealers keep an ample stock of run-flat tires for all popular models, so you should get your replacement without delay.
A recent market survey report published by ReportLinker shows that the commercial vehicle run-flat tire inserts market size in the United States is slated to reach $333.2 million by 2027.
Will Run-Flats Remain Intact on an Unused Car?
The rubber material on the tread is the same material used in normal tires, so run-flats can develop cracks over a period of time, if you don't use your car.
How Much Do Bullet Proof Tires Cost?
A bullet proof passenger car tire costs anywhere between $200 and $500. That's a 50 to 200 percent price increase over standard tires.
You save on the cost of keeping a spare tire, which also helps reduce the overall weight of the car.
How Do You Know if Your Car Has These Tires?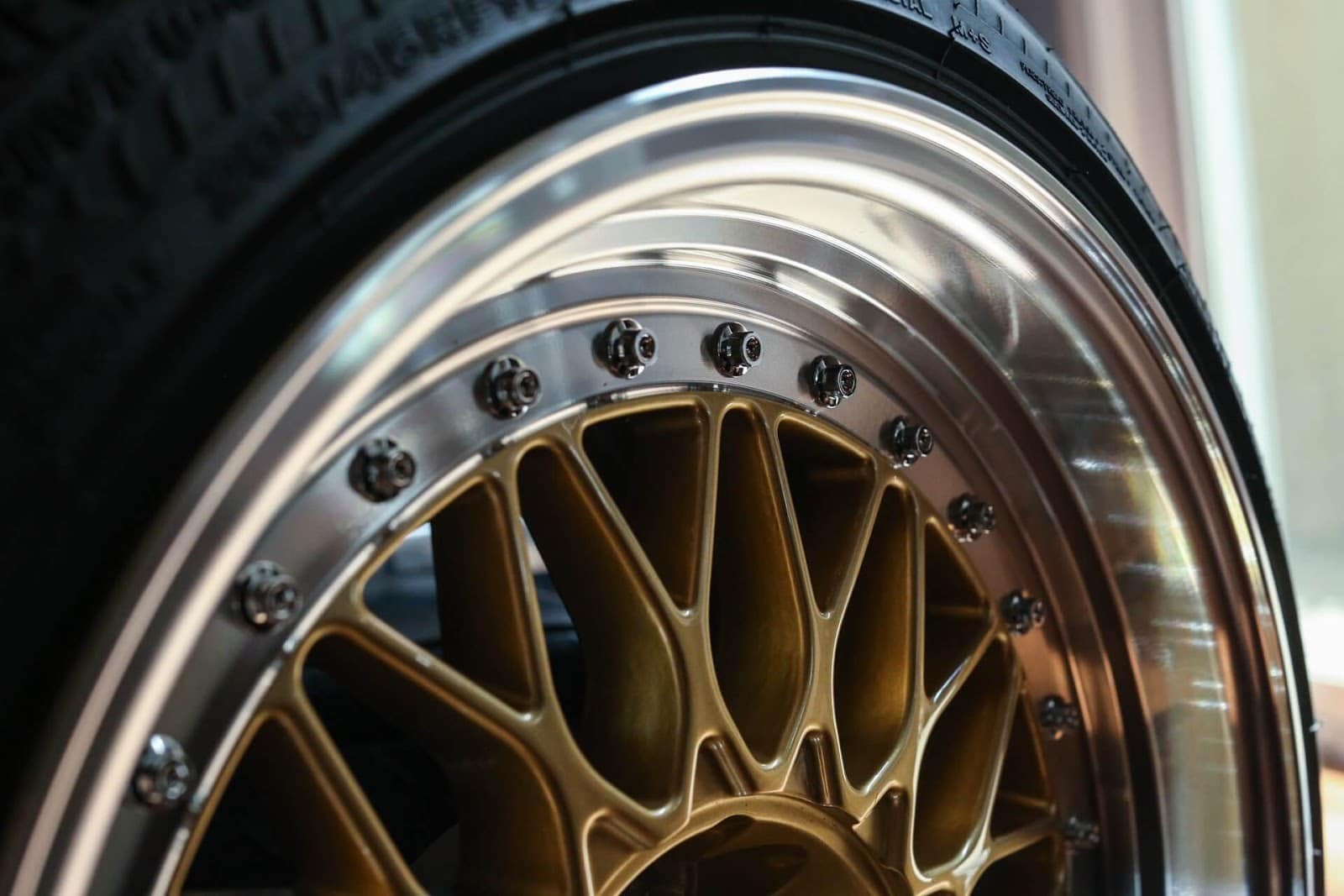 You'll notice a familiar symbol on the sidewall of the tire, if your car runs on them.
Browse through the Monroney sticker displayed on your new vehicle. This sticker offers new vehicle owners useful information about the car including the type of wheel installed.
Why Are Self-Supporting Bullet Proof Tires Popular?
That's because its reinforced sidewall supports the car, if the tire air pressure is extremely low or if the tire is completely punctured.
What Are the Pros and Cons of Bullet Proof Tires?
Pros
The biggest advantage is that you don't have to get out of your car to change a punctured tire, as it's dangerous to change tires on the road.
You can continue driving to work, meet your appointment in time, or get your tire checked at the nearest repair shop.
Bullet proof tires have protective layers with extra features. For example, run-flat tires enhance steering responsiveness. They have wider treads for better road contact and maximize performance capabilities.
It's possible to stall repairs for a day or two when you're keen on consulting your regular technician at a familiar workshop. They do keep stocks, if you need to replace a flat tire.
Bullet proof tires have thicker sidewalls, so even a deep gash won't prevent the car from reaching your destination. If there's extensive damage or tear, you can always replace the tire after you arrive.
A spare tire occupies a considerable amount of space in the trunk of your car. It also adds more weight that you can avoid when you opt for run-flat tires.
Self-sealing tires are controlled by a monitoring system that automatically corrects tire air pressure on the run. This system makes it possible to cure punctures.
Run flats allow you to control your car when a blowout occurs, especially around tricky turns.
Cons
Different trim levels demand different types and sizes of bullet proof tires. You'll have to consult your authorized dealer before you decide on what kind of tires fit your car.
Cost can be a deterring factor, as run-flats make for expensive replacements for standard tires.
Bullet proof tires are harder than standard tires because of their reinforced sidewalls. So, the technician uses a different approach to tune the suspension of the car. This makes it difficult to replace them with traditional tires.
You'll spend some time understanding these new indicators on the dashboard, as there are warnings about tire air inflation, zero pressure readings, and speed limits.
Tips To Help You Buy Bullet Proof Tires
Manufacturers are working to come up with upgraded bullet proof tires at a lower cost. It pays to check out all your options when you buy your car.
Check whether your bullet proof tire can withstand a lot of heat, as that helps when you have to cover 50 miles to fix a puncture.
Choose the all-season bullet proof tire equipped with ultra-powerful gripping capability, as you get more value for a lesser price.
Look out for bullet proof tires especially designed for hybrids or electric vehicles, if that's the car you choose to buy.
Final Words
Bullet proof tires create a win-win situation for both the owner and manufacturer. The car costs less, as there are no spare tires to keep. Also, the weight of the car reduces.
Run-flat tires are getting more popular by the day. They are secure, solid, and stable. Who bothers about spare tires today? With better tire advancements round the corner, it's time to consider this safe-driving option.