When you need new tires, you can't jump in lightly and buy the first set you come across. More often than not, you'll find budget tires that feel like budget tires. On the other hand, you have affordable brands like Lionhart, which feel premium.
But how well can affordable tires actually perform? Part of the reason premium brands cost what they do is because the designers spend so much time researching the science behind a high-performance tire.
So, in this Lionhart tires review, we aim to figure out whether the tires can live up to their premium counterparts. Then we'll review a few of the Lionhart range. We'll cover:
Who makes Lionhart tires?
Are Lionhart tires accessible?
Are Lionhart tires any good?
What do customers think?
Lionhart tires review of models.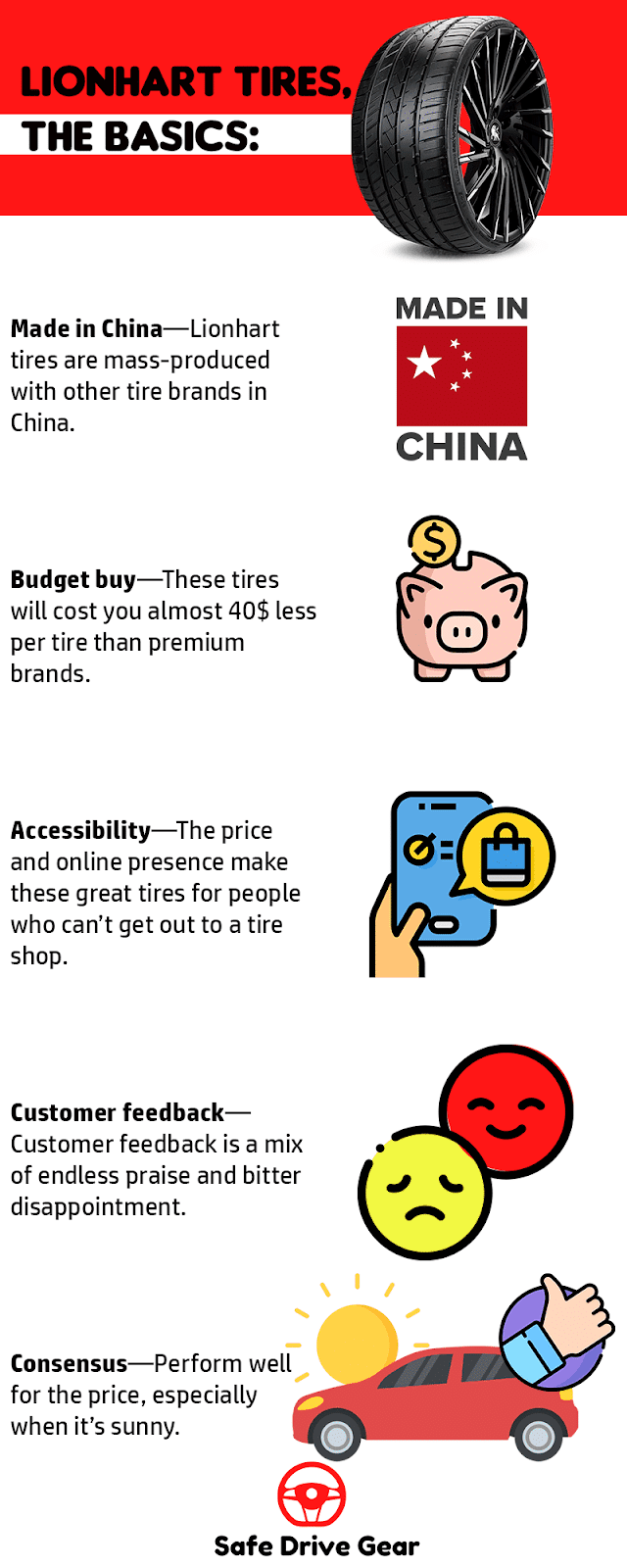 Who Makes Lionhart Tires?
Lionhart tires are manufactured in China.
The brand is elusive about where the tires are specifically manufactured. Many stipulate they're just churned out with various budget brands across multiple factories, but nobody can confirm these suspicions.
Either way, does it matter if they're mass-produced in such a fashion? In the end, it's the tire's design that makes the splash.
Lionhart is also relatively new to the market, so it may not be at the level it takes to open its own factory with employees trained to make Lionhart tires specifically.
So, don't disregard Lionhart as another "cheaply made in China" product. China churns out a number of high-quality products, too.
Are Lionhart Tires Accessible?
Since they're fairly new and made in China, Lionhart's market began outside of the US. But these days, the target market is North America and its surrounding markets.
They've been more accessible than ever since 2018, quickly gaining traction and praise on many websites across the internet.
Online Presence
As they're not yet famous, it's rare to walk into a tire dealership and find a stack of Lionhart waiting for you.
In a way, that makes Lionhart tires all the more accessible. They're available almost exclusively online, so you don't have to lift more than a finger to acquire them.
We'll provide you with a few links to Lionhart tires later on.
Lionhart tires have quite the social media presence; something tire companies often neglect even in today's online-centric world. This open access to the thoughts of those behind the brand makes them highly accessible.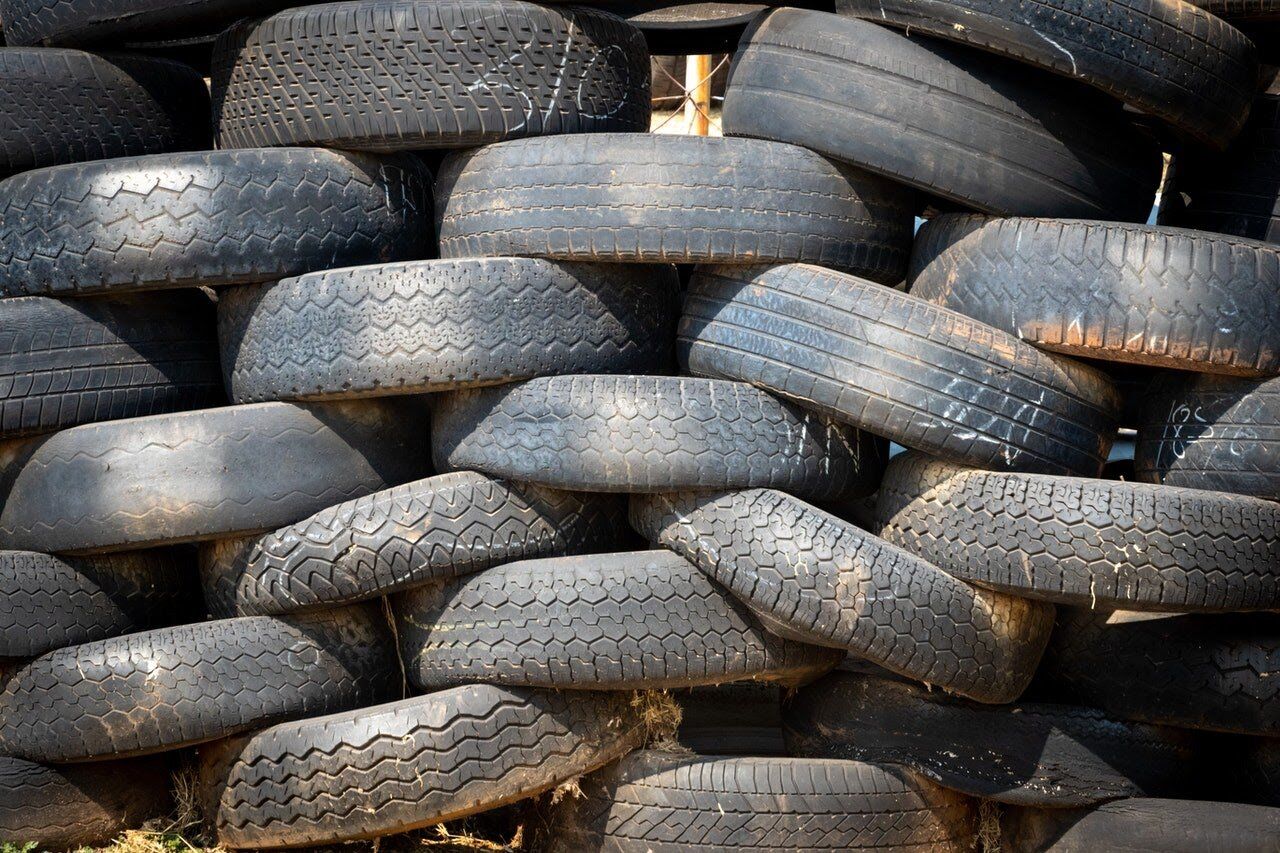 Price
Price-wise, Lionhart tires are accessible, too.
Let's make an example of Lionhart tires for medium SUVs. The per-tire pricing is only a little over $100.
Putting this up against a more popular competitor brand with a per-tire price of $150, the savings are measurable.
Although the popular brand may be pricier because the tires are of better quality, right? Let's find out and see how good Lionhart's stock really is.
Are Lionhart Tires Any Good?
On the surface, Lionhart tires appear excellent. We're going to examine many design features to determine this supposed quality—unique products, testing methods, and features on the tires combined.
High Performance for Passenger Vehicles
Okay, all tires are made to perform well aren't they? Well, yes and no.
Not all cars are best suited to hauling passengers around like sedans and SUVs are. These cars are chunkier and need tires that can accommodate this as well as perform adequately. They're not made for racing, so neither are their tires.
Non-passenger cars, though, can be equipped with tires made for speed and cruising down highways without a care in the world.
How is that fair? Sometimes when the kids aren't in the car, it's fun to whoosh down a highway in an SUV.
Lionhart gets this. One product that Lionhart offers is high-performance tires that'll let you go at speed in a passenger vehicle with ease. So far, there aren't many manufacturers that put such passion for speed performance on passenger car tires. This makes their Lionhart existence a unique and intuitive one.
Handling Ability
Some tires have tread that's knobbly and difficult to handle. It leads to an unpleasant driving experience of jumping and coaxing.
Lionhart doesn't want this to be the case, so ensures all tires handle smoothly, even the off-road tires.
Rather than a big, knobbly tread, Lionhart prefers gaps that displace water as you drive. Then the parts of the tread that touch the road can gain better traction.
This is just one example of the superior handling ability, though. Where many brands keep a similar tread style across all their tires, Lionhart doesn't. Instead, each tread is custom for the tire's purpose.
Longevity
Lionhart uses silica on their tires, which is supposedly durable enough to boost the lifespan of the tires.
The enhancement is also meant to boost tire performance on icy roads. Since enhancing tires with silica requires a blend of rubber, silica and rapeseed oil, it creates a resistant material that lets snow and ice become as insignificant as a pebble.
Whether it works or not is for customers to determine.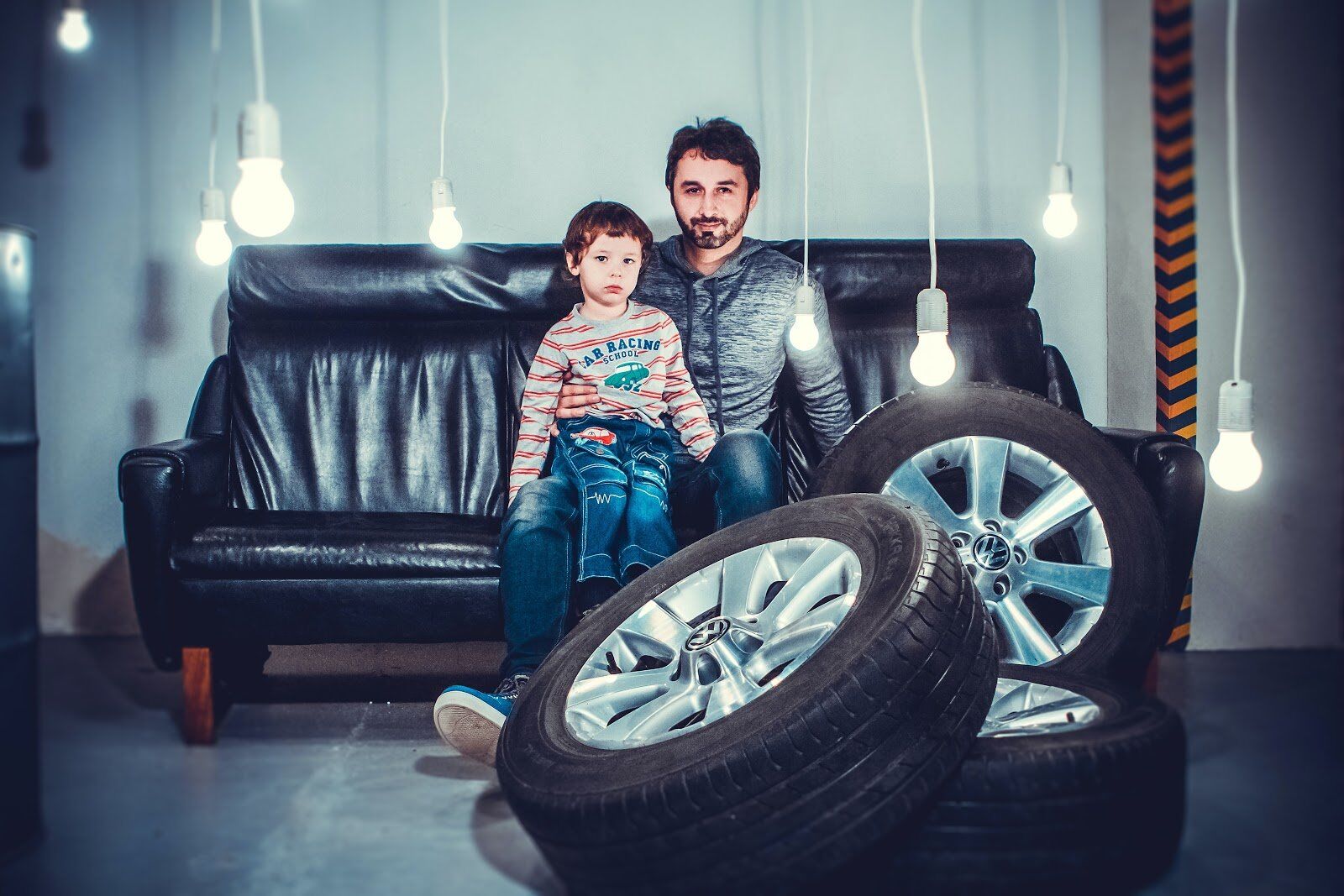 Steel Inclusion
Tires can utilize steel belts to add stability and stop the tire from collapsing in on itself. Unfortunately, many manufacturers shy away from doing this. Lionhart isn't one of them, so the tires are tough from the get-go.
Steel helps the tires repel any debris that flies at the sidewall and adds extra puncture protection.
The steel also helps keep your tires grounded. Since the steel makes the tires heavier, it adds that little bit of weight that may stop your vehicle from coasting too much when speeding or drifting if parked in an area with high winds.
The Testing Methods
Using 3D imaging in the tire design process isn't unique to Lionhart. All the best brands do this to ensure the design is the best it's going to get, and everything works as it should.
Since Lionhart isn't a premium brand, its use of computers and 3D imaging during the design and creation process stands out from the rest of the budget crowd.
What Do Customers Think?
We now have the technical side of what's good. How do customer opinions hold up?
The Good
Customer feedback is mainly complimenting the traction and handling of the tires, even on corners and at speeds of around 100 miles per hour.
Customers enjoy their smooth, balanced feel, citing no change in performance after almost 1,000 miles. They also enjoy how quiet the tires are in operation.
The Bad
Despite the silica coating, some customers feel that the tires wear out fast and don't fare well in snow. Wet conditions are also a risk.
Another complaint users had was about tire noise. Since others compliment the silence, perhaps it's model-dependent.
A few truck drivers had some issues with blowouts, though.
Tire Examples: Lionhart Tires Review
We've heard enough generic feedback on the brand. Let's break down a few models and see what customers say about them.
The LH-Ten tires are made for sports SUVs and all seasons but not all weather. Their performance excels on tarmac, as does their handling. They're best in dry weather but have minimal shortcomings in the rain.
In wet conditions, braking distances aren't as great as you'd hope. Customers complain that they're too long, but a skilled driver could get around this.
Customers also have mixed opinions on the tires' longevity. Many have no issues, but others find the tread starts to deteriorate quickly. Luckily there's a 30,000-mile treadwear warranty should you have that issue.
Excellent handling.
30,000-mile treadwear warranty.
Responsive.
Great traction.
All-season, but not all-weather.
Long braking distances in wet conditions.
Questionable tread life despite the warranty.
Most customers buy this tire model for touring and find that it starts off performing well. It's comfortable and safe to handle, but only on dry roads.
Customers found the wet-road handling and traction to be drastically lower than on more premium tire brands. You need not even bother trying to drive in snow, as the tradition is as good as non-existent there.
Another stray away from more premium tires is the tread life. Despite the 40,000-mile treadwear warranty, these won't last as long as a premium tire set. Although that's expected for the price, this set of tires lasts longer than other budget brands and other Lionhart tire models as it is.
While they last, they're comfortable and quiet tires, but you'd be better off sticking to the sunny spots with them.
Quiet.
Better tread life than other Lionhart tires.
Fantastic warranty, better than on other Lionhart models.
Great handling, if you stay on dry roads
Below average performance on wet roads.
No use in snow.
Tread life doesn't live up to the hype the silica coating provides.
The LH-5 is often the tire of choice for drivers who value performance. It works incredibly well on basic dry roads, and customers praise the low noise threshold it provides.
But, like the above few, it doesn't do well in all weathers despite being called all-season. Snow and ice don't mix well with this tire.
Luckily rain doesn't hurt it too much, but the traction is noticeably less on wet roads. The usually short braking distance increases as the traction decreases.
Something else that decreases is the tread, despite the silica coating. One has to wonder whether the silica coating is effective at all, because this is the second set of tires that customers had tread life issues with.
Plus, the more the tread wears down, the louder the tires will get. Owners are usually fine with a little noise from the start if the tire is high-quality and cheap. But increasing volume with decreasing performance led to complaints.
On the plus side, you once again get that 30,000-mile treadwear warranty from Lionhart. So if you do experience the issues that many customers have, at least know that Lionhart will try and do something about it.
Excellent performance in dry conditions.
Quiet to start with.
Great warranty.
Responsive, with short braking distances in dry weather.
Handles less favorably on wet roads.
Get noisier as the tread wears down.
Mediocre tread life.
These tires, best for SUVs and potentially trucks, are the best ones for wet conditions out of this bunch. That said, the wet-road performance is still below average.
And if you remember anything from the customer feedback before the reviews, truck drivers had issues with the tires popping.
So stick to your SUV and try to go out in dryer conditions, though customers say driving with these still feels safe in the rain. Just stay away from snow, because feedback there is less positive.
Feedback about the tread life was positive though, which is a lot better than the models above. Any complaints about fast wear or tires getting noisy as time goes on are all but non-existent.
There's a 40,000-mile tread life warranty, but in the case of the Lionclaw HT, you may not need to cash that in after extensive highway driving.
Speaking of the highway, that's where these tires fare best. You'll need somewhere you can cruise mostly straight, as customers found the tires slightly responsive at best.
Decent in wet conditions.
Excellent warranty.
Made for large vehicles.
Great for highway use
Not very responsive.
The wetter it is, the worse they perform.
No snow traction.
Frequently Asked Questions
Where Is Lionhart Tires Made?
Lionhart tires are made in China, but manufactured for an overseas audience. There are no Lionhart-specific factories as of yet, though.
Are Lionhart Tires Noisy?
Lionhart tires making noise is a contradictory discussion. Many customers say they're quiet, where others complain of noise but don't mind the volume for the price.
Who Makes Lionhart Tires?
As of late 2020, the true manufacturer of Lionhart tires is unknown. All we know is that it's an independent company based in China.
The Final Spin
As far as budget tires go, Lionhart is one of the better brands, with practices closer to premium ones on the surface.
The practices, designs and promises that Lionhart makes have the tires seeming incredible. They're clearly budget bliss in the first parts of this article. Unfortunately, looking at individual tire models and customer feedback reveals Lionhart tires are closer to an average buy.
If you live in a mostly dry area with little humidity, Lionhart tires may be for you. But in rainier areas, we just wouldn't trust them to hold up.