When you're looking for solid, durable all-season tires for your car, it might be tough to find the right one. There are so many tire brands and sellers out there, and not all of them are trustworthy. So when you find a big name brand for a reasonable price, you're tempted to find out more.
The Michelin – X Tour A/S T+H is one example of an exclusive tire. It's essentially the same as Michelin's Defender T+H, a long-lasting touring tire made with driving comfort in mind.
But the company has recently made updates to some of its tread compounds, meaning there's more to know about this model. So, check out this Michelin – X Tour A/S T + H review and see for yourself!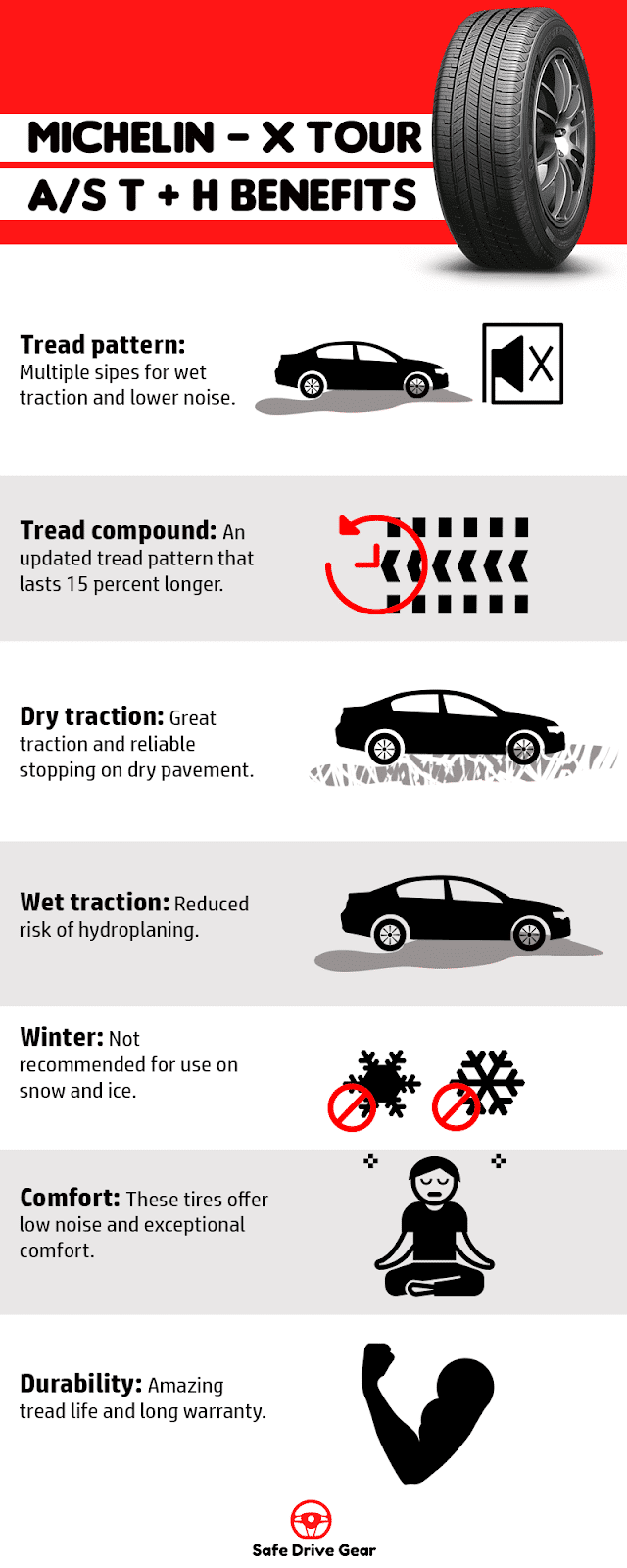 Are Michelin Tires Good?
Michelin is the second largest tire manufacturer in the world, right behind Bridgestone, making nearly 27 billion dollars in tire revenue in 2019.
The company has been around since 1889 for over a century and is known for making top-quality tires. They aren't necessarily budget-friendly but come with an excellent tread life warranty, and the overall tread life is solid.
Michelin tires are definitely among the top tier of tires for everyday drivers. They're at the same level as Bridgestone and Goodyear, so they're generally a smart investment.
But, let's get into the Michelin – X Tour A/S T + H review.
What's the Promise Behind Michelin – X Tour A/S T + H Tires?
The Michelin – X Tour A/S T + H is an all-season touring tire for passenger cars.
The tread pattern, compound, and all other characteristics are exactly the same as the bestseller Defender T+H. The only thing that's changed is the name, probably for marketing purposes.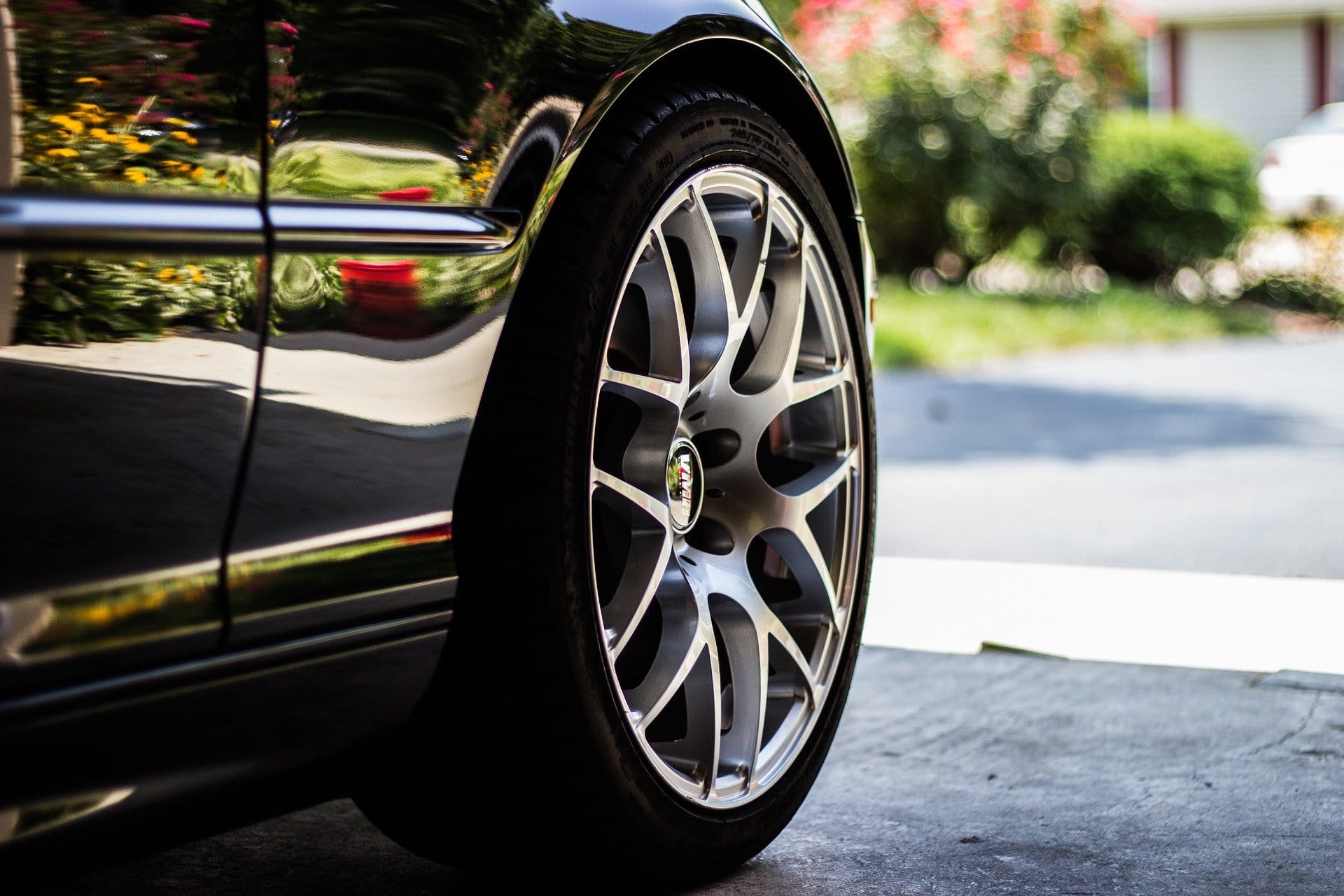 Tread Pattern
Michelin – X Tour A/S T + H has a tread pattern that's fairly common for a touring tire. It's low-profile, made more for comfort and smooth driving than amazing grip.
There are three rows of independent tread blocks in the middle and two at the edges, with four directional channels between them. The channels are deep and quite wide in order to evacuate water faster and maintain a nice grip.
This tire also has zigzagging sipes that go across the tread. They're designed to give you better traction in wet conditions. Siping also reduces noise when driving, so it's a key feature on a touring tire.
And on longer distances, fuel efficiency is also an important consideration. You don't want to spend any more money on fuel than is absolutely necessary. These tires promise to have a low rolling resistance, which makes them ideal for saving your hard-earned dollars; this also makes them a smart investment in the long run.
Tread Compound
The Defender T+H, which is essentially the same tire, has been around for a while. While the reviews were generally positive, it used to get some complaints about the tread life. Michelin has since updated the tread compound, making it more durable.
And this updated tread compound is on your X Tour A/S T + H, as well. Michelin promises that this tread will last 15 percent longer than the original Defender T+H.
How Do Michelin X Tour A/S Tires Perform?
So, how good is this tire? Let's look into its characteristics and performance a little closer.
Dry Traction
The traction of this tire on dry pavement is usually excellent. It's a great safe and reliable tire, so we definitely recommend it for use on dry roads. The braking distances are generally short, so you can drive with your family and stay confident in the stopping power of your tires.
However, if you're looking for a high-performance tire, this one will likely not be your pick. It's not ideal for people with more aggressive driving styles who tend to switch lanes quickly or who want some cornering capabilities.
The tough tread compound has a nice bite, but not as much as, for example, the softer one on another Michelin touring tire, the Premier A/S. After all, this is mostly a tire for an everyday driver looking for comfort and durability.
Wet Traction
The wet traction of these tires is great, especially for such a low-profile tire. Deep channels on the tread help water drain quickly and give these tires excellent resistance to hydroplaning.
And the multiple, zigzagging sipes have biting edges that dig into the road and help you maintain traction.
Snow Traction
Technically, these are all-season tires, so they can handle a little bit of snow or slush. But we don't recommend using them in the winter because a real winter tire is always the safest option. Especially if you're experiencing any ice, these tires will slide like skates.
How about an emergency? If you get one light snowfall a year, you might be able to get to the grocery store with these tires. But if you have severe snowy winters in your area or if you want to drive longer distances in the winter, these won't be safe.
Invest in a real winter tire if you live in a snowy region, and change your tires twice a year. For short road trips in the snow, for example, for skiing, you can also invest in some tire chains.
Comfort and Noise
Driving comfort is one of these tires' major selling points, so it's no surprise that it's one of their top features among customers. Most people are more than happy with the driving experience, noting that it's quiet even at highway speeds.
This also means that you won't feel as much vibration on your arms, so you don't get too tired when driving long distances.
Overall, these tires keep up and fulfill their promise of comfort. You'd be hard-pressed to find a set that feels better to drive than these tires.
Tread Life
Today the common experience among users is that these treads were made to last and can withstand a lot of mileage. You can reasonably expect them to last between 80,000 and 100,000 miles, which is enough to fulfill their warranty.
This can easily be more than 6 years and can sometimes double the amount a budget tire will last.
Overall, a tire like this is ideal if you rack up lots of mileage every day. For example, if you use your vehicle a lot for work and want a model that lasts you for longer than a couple of seasons, these are an excellent pick.
Keep in mind that this is a directional tread pattern. This means you don't have as many options for rotating these tires as you would with an asymmetrical tread. You can only change their position under the car but not turn the tire around.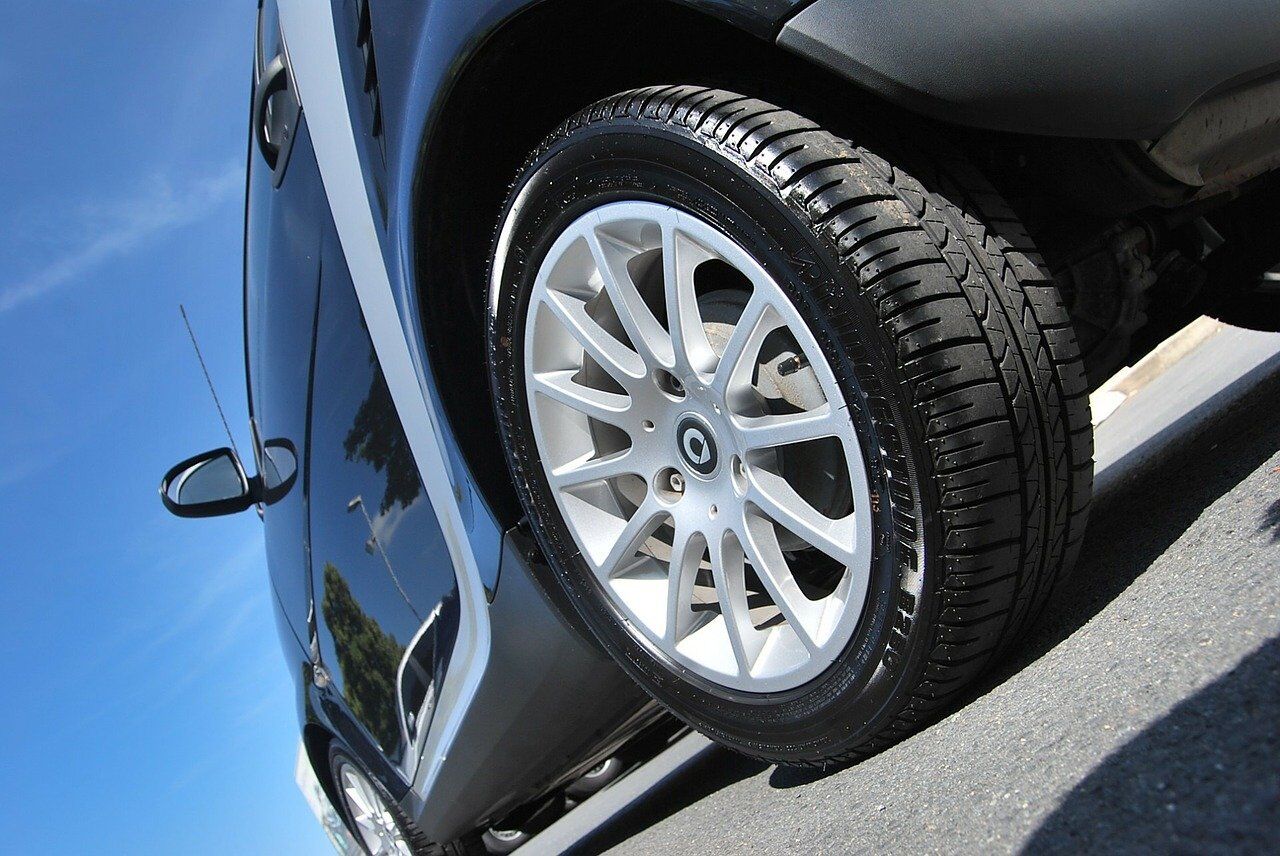 Price
Generally speaking, Michelin isn't one of the brands you'd go to if you're looking for a budget tire. And these tires aren't necessarily cheap. You might get a good deal on them or the Defender T+H online, but a full set will set you back several hundred dollars.
However, the durability of the tire and the lower fuel consumption will probably help you save in the long run. A solid set of tires designed for low fuel consumption like this one is a great pick for keeping costs down. You'll be able to drive longer on both your tires and a full tank of gas.
Warranty
Michelin is a quality brand and always offers a long warranty on tread life. The manufacturer gives you an 80,000-mile limited warranty for your tread, plus Michelin's standard 6-year warranty. These are among the longest treadwear warranties you can find on the market.
Michelin also has a 3-year flat tire changing service and a 30-day customer satisfaction guarantee. If you're not happy with your tires for any reason in those first 30 days, you can return them.
Who Are Michelin X Tour A/S Tires For?
Who are these tires ideal for? Let's see.
Everyday Driving
Michelin X Tour A/S T+H is a reliable everyday tire that's perfect for family sedans and minivans. It also comes in sizes for smaller crossover vehicles, but not SUVs or trucks.
The X Tour A/S T+H is a solid tire that works in most common situations, from everyday driving to longer distances. We don't recommend these tires for drivers who look for speed or exceptional performance; they are safe, solid, and reliable but not designed for speed.
Wet and Dry
If you live in a warmer climate with no snowfall, these tires even work for year-round use.
They provide great performance on both wet and dry roads, so they're a trustworthy pick for even coastal areas with high humidity levels. For the snowy winters of the north, though, you'll need a dedicated winter tire. Like most all-season tires, these aren't the right option for snow or ice.
Saving Money
Despite the higher price of Michelin tires, these can actually be a great pick for the budget-conscious shopper. You'll be able to use them for a long time, and you might also save on gas with a new set of tires like these.
FAQ
Are Michelin Tires at Costco the Same Quality?
Yes, Michelin tires at Costco, including the X Tour A/S, are the same quality as the tires the brand manufactures for other retailers. In this case, the X Tour A/S T+H, sold in Costco, is the same quality as the Defender T+H.
What Is the Difference between Michelin Defender and Premier?
Michelin Defender T+H, and X Tour A/S, are for reliable and safe everyday use and lots of mileage. Michelin Premier A/S, another user favorite, is more for performance use. It has a softer tread compound, and it's better for fast braking and lane switches, but it's not as long-lasting as the Defender.
Will New Tires Improve Ride Quality?
New tires will almost certainly improve your ride quality. They're usually smoother to drive on and less noisy. You'll also have a better grip on a fresh tread, which will keep you safer and reduce braking distances.
What Is the Best Time Of Year To Buy Tires?
In general, you'll get the best deals for tires in April and October before the snow arrives. Prices tend to go up when there's a higher demand. This means it's a good idea to avoid tire shopping in the summer and right after snowfall if you're on a budget. Online, you might still be able to get a very nice deal at any moment.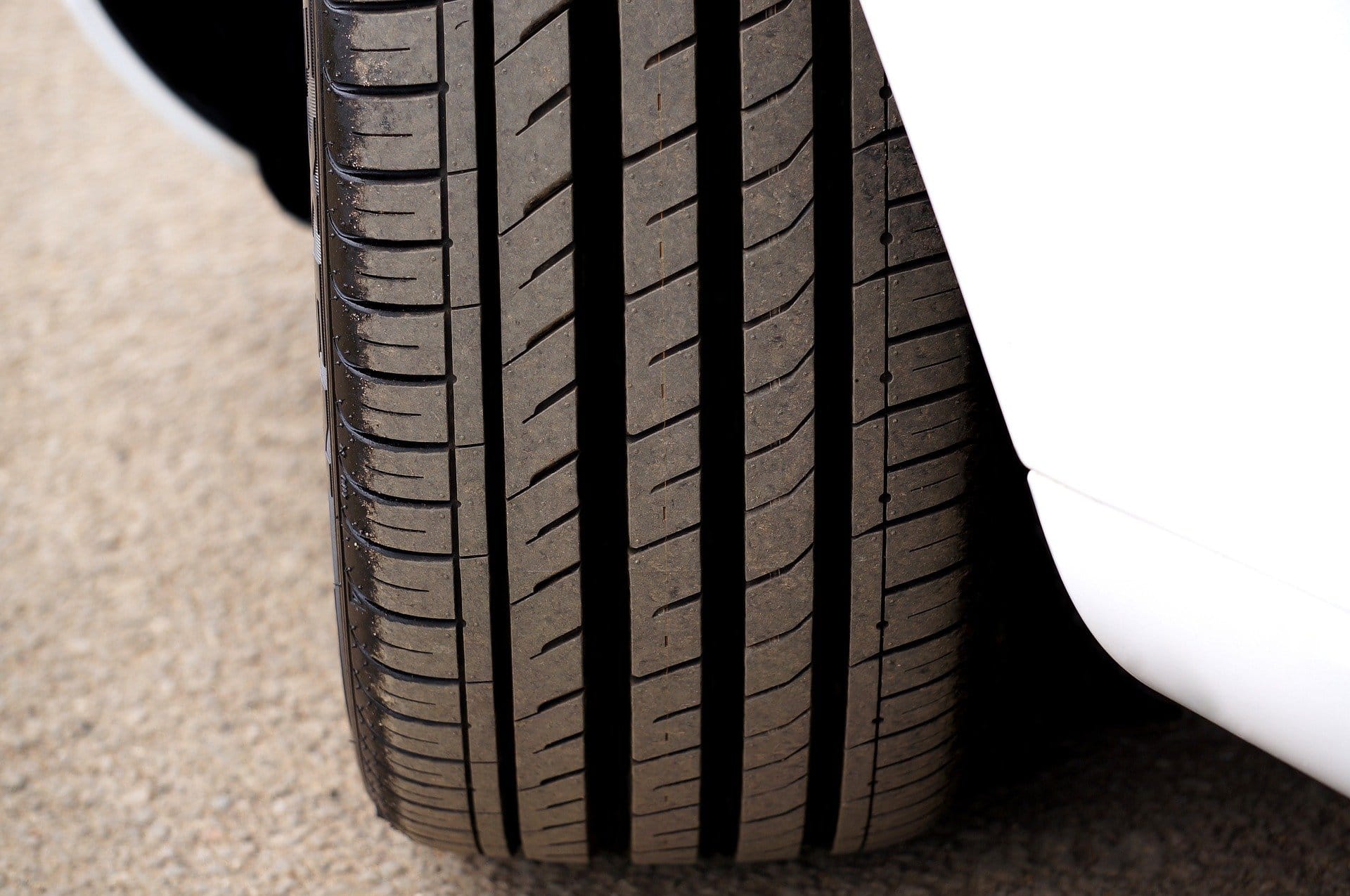 Final Verdict: Are Michelin X Tour A/S Tires Worth Your Money?
So, we've reached the end of our Michelin – X Tour A/S T + H review. Are they worth your investment?
The Michelin X Tour is generally good-quality, and we do recommend these tires if you're looking for a long-lasting tire. They provide great performance in dry and wet conditions, along with short braking distances and a reduced risk of hydroplaning.
But most importantly, a good set of touring tires like these can really save you money in the long run. Even if they're more expensive to buy, you'll likely be able to use them for longer. The low rolling resistance also helps lower your fuel consumption and gas budget.
Find the Michelin – X Tour A/S T + H here.